A change in identity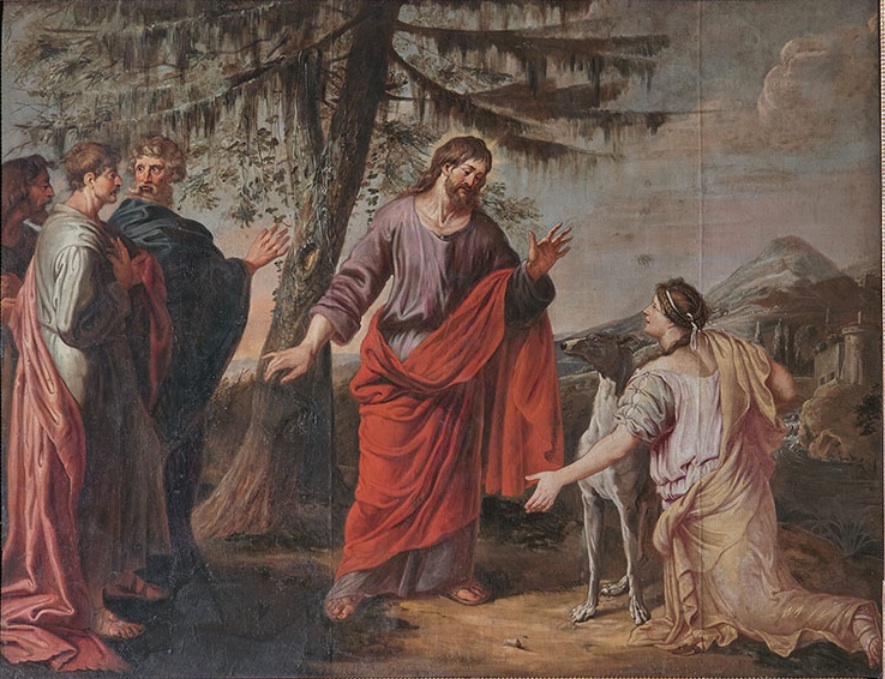 Jesus and the Woman of Canaan-Michelangelo-Wikimedia Public Domain
Reading Matthew's gospel chapter 15:21-28, we are given to ponder the mother of the possessed daughter.
 And Jesus went away from there and withdrew to the district of Tyre and Sidon. And behold, a Canaanite woman from that region came out and cried, "Have mercy on me, O Lord, Son of David; my daughter is severely possessed by a demon." But he did not answer her a word.
 And his disciples came and begged him, saying, "Send her away, for she is crying after us." He answered, "I was sent only to the lost sheep of the house of Israel." But she came and knelt before him, saying, "Lord, help me." And he answered, "It is not fair to take the children's bread and throw it to the dogs." She said, "Yes, Lord, yet even the dogs eat the crumbs that fall from their masters' table." Then Jesus answered her, "O woman, great is your faith! Be it done for you as you desire." And her daughter was healed instantly.
This woman was a Canaanite, the lowest of the low. Canaan was cursed by Noah due to his father Ham's indiscretions (GN 9:20-27). From then on, they were an ungodly people with whom Jews had no interactions. They were a race held in disgust. She knew this but she also believed Jesus was both Lord and Messiah. In spite of the circumstances into which she was born and her lineage, God had given her the opportunity of faith and she assented to it.
 Therein lies step 1: say Yes to God. How often we are so wrapped up in our own pain we aren't even aware of the Spirit moving us toward God who is the very solution for it?
 This mustard seed of faith must have been cultivated in her heart, for she had somehow come not only to know of Jesus but to know enough about Him that she knew who He really is. He is more than just a phenomenal preacher and intellectual prodigy. That gave the fuel to fire her own spirit to not just seek Him out but to actually approach Him.
 Then Jesus is silent. We know from other scriptures that when Jesus is silent, it doesn't mean He is ignoring us. Just as in our prayer and spiritual life, there is a purpose to the silence.
 We don't know how this interaction actually took place, but perhaps they were walking by her since the apostles "came" to Him and said, "she is crying after us". She was within hearing distance in order to respond to Him when He finally did speak: "I was sent only to the lost sheep of the house of Israel."
 Here is the challenge. She knew exactly what this meant, that according to human reasoning she was destined to a miserable eternity. She was not one of 'them', not of Shem's line, the holy ones. That, however, was the identity laid upon her by humankind from birth. It isn't how He saw her. We can mistakenly think Jesus is chastising her especially if our own brokenness causes us to misinterpret scriptures as a God who punishes His people. It can also be common error to think she was able to change His mind; God cannot be changed. However, we know from the spiritual life that God withdraws his consolations so that we seek Him; that He permits situations to occur so that we give up our ways to take on His. Ultimately, He seeks to recreate us into the person He always intended us to be; to know our true identity.  Jesus' comment wasn't a chastisement. And while the exercise of having to ask again builds the virtue of fortitude, it isn't meant to encourage pester-power, a habit of lamenting to Him of what we want. It was an 'unseating', opening the door for a paradigm shift so that she could leave behind the worldly identity of 'low-life' and instead come to Him as God's child. To ask again required her to leave behind her self-made identity of 'worthless' and 'cursed'.
 Her response was to move forward and kneel before Him. We see how Faith leads to Hope, which is the longing for that which we don't possess.
 The response itself: "Lord, help me." It was up close and personal. She began in great faith crying out to Him from a distance. We, too, do so in our lives. This is good in itself, as it brings us to Him. However, God wants more for us and so wants more of us.
 It was when she actually interacted with Him rather than just lamenting at Him that she was changed and able to be vulnerable to Him. This is precisely the conversation He waits to have for us in our mental prayer every day.
 And as He often does, He gives her more than what she asked for. She doesn't ask for her daughter to be healed, she asks for mercy upon herself. He healed them both.
 While asking God repeatedly for help is an important part of living the faith, it isn't the end-all. That would keep us centered in ourselves. It should be the first step to receiving mercy, the beginning of the necessary conversation. For the Canaanite woman, her life would not have radically changed if He had simply given her a moment of consolation or even if her daughter was healed. The real gift was the change of her heart that comes from knowing Him rather than knowing of Him. That is mercy.
I have been crucified with Christ; it is no longer I who live, but Christ who lives in me (Gal 2:20)
 This scripture invites us, as St. Paul writes often, to take off the 'old self'' (Eph 4:22; Rom 6:6; Col 3:9).  It's about what happens after our initial acceptance of belief, how we must become close and personal with Jesus, and the disposition this requires—submission. Self-surrender requires letting go of the 'old man', the identity we have unfortunately become accustomed to even though it plagues our heart. In this scripture, Jesus teaches us not about pestering Him but, rather, how to come to Him and be with Him in a personal way. He similarly challenges us to see ourselves differently, not as repulsive or unworthy but as one of the children of Israel to whom He was sent. 😊
 As always, we must continue to pray for the worldwide church, especially Pope Francis, all clergy and religious.
 Grant us holy priests to console those who suffer, to remind all that we are brothers, to bless our homes, our work, our fields so that your kingdom may extend to all souls. Amen.
 Ad Majorem Dei Gloriam 😊