Epiphany seeds of faith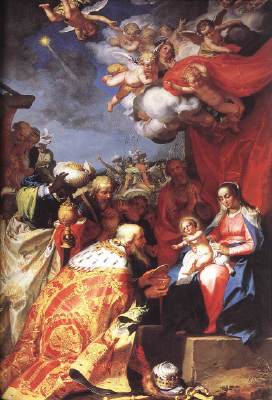 Photo by Abraham Bloemaert from web gallery of art
"For what could they have to say, who did not receive Christ after so many prophets, when they saw that wise men, at the sight of a single star, had received this same, and had worshipped Him who was made manifest." (St. John Chrysostom) [i]
 Over the millennia, people have been fascinated that the Magi traveled so far to adore a child King of a peoples not their own. St. John Chrysostom raises questions and gives great perspective to consider the fuller meaning of all of this. The Magi could not have predicted from the stars when He would be born or how, or what was to happen "but conversely, having a long time before seen a star appear in their own country, they come to see Him that was born." Then one asks why did they come at all? They weren't there to pay homage to the child of a human ruler. He wasn't their king, and they didn't hesitate to risk telling the reigning ruler (Herod) of this new king in his kingdom. They took great risk in traveling the long distance. Arriving to find this King was an infant, they worshipped him rather than turning around and going home. Why did they bother?
What has always amazed me is that the Magi spoke the words of the Prophet Micah (5:2): "And you, O Bethlehem, in the land of Judah are by no means least among the rulers of Judah; for from you shall come a ruler who will govern my people Israel." Micah fills in more, that the ruler's "origin is from of old, from ancient days".
 Micah was a contemporary of Isaiah in the 8th century BC. The Jews were expecting the Ancient One, not just an earthly messiah. Micah prophesied that Israel would first be purged of their sinfulness, lose their pride by losing their sovereignty, and only be saved out of God's mercy because they would have no means to save themselves. By the time of Jesus, all of that had happened.
 The smallness of true Power underlies this too. From our view looking back, we are enamored, and rightly so, that God would love us so much as to belittle Himself to become one of us to the extent to be born as a baby to an impoverished family in the filth of the earth.
From the heritage of the 1st century Jew carried forward into this 'event', this Divine savior was to be born in Bethlehem, the birthplace of David. A tiny village of about 1000 of David's descendants, 'Bethlehem' interestingly means House of Bread (in which the true Bread of Life is born). True Power comes in inconspicuous ways.
Well, we can see why Herod freaked out. It wasn't just that this baby was the legitimate heir to an earthly throne (Herod lied to get onto the throne so was illegitimate). This was the Savior that had been prophesied. It didn't matter if he believed it, the people did and he might lose control. Hence the massacre of the Holy Innocents (estimated 20 children).
Micah's prophesy was one that told suffering wasn't just for sin but, also, for redemption. Suffering forces a helplessness upon us so that we have no choice but to rely upon God alone, who "does not retain his anger forever because he delights in mercy" (7:18).
Now how much of this the Magi had been taught may never be known. What can be inferred however, is that obviously someone taught them. Someone shared their faith. It may have been one Jew in the diaspora during the 7th century BC, and that knowledge was passed down through the centuries. Having had Jews in their lands living their faith since the Babylonian exile, perhaps the mere example of their lives helped them to embrace the notion of God. Or it may have been a Jew nearer the time of Jesus' birth, having himself been taught how the prophesies of Micah and others had come true and all that was left was this savior to come into their midst. Specifically, to be born in the womb of a Mother (5:3). All it might take is one conversation of the faith to set their part in salvation history into motion. And their own salvation too, since they are now saints.[ii]
Once again, by the appearance of the Magi we are reminded of God's promise to David for all people of the world to be brought into His covenant of love. But it does more than just remind, it gives perspective. If, setting aside our emotions and pride, we submit to the Holy Spirit to inspire our words and then trust that is enough, God will work in His time to bring those people to Himself. All we need to do is share our heart and be satisfied that is sufficient. 
"Whether or not our prayer is heard depends not on the number of words, but on the fervor of our souls."  (St. John Chrysostom) 
The most fervent souls avail themselves of the Eucharist frequently and with a disposed heart, humbled and surrendered, seeking the promises of a God who always keeps them. We must not be afraid to attend mass where available. Continue to pray for our clergy and religious who bring God to us in the sacraments and bring us to God in their prayer: Pope Francis, our worldwide church, and our country. 
O God, Whose only-begotten Son has appeared in the substance of our flesh, grant, we beseech Thee, that we may be inwardly reformed by Him, Whom we have recognized as similar to us outwardly, Who liveth and reigneth with Thee in the Unity of the Holy Ghost, One God, forever, unto ages of ages. Amen. [iii]
Ad Majorem Dei Gloriam 😊
 ————————–
[i] St. John Chrysostom http://www.newadvent.org/fathers/200106.htm
[ii] Three holy kings who came to adore the Lord https://www.salvemariaregina.info/SalveMariaRegina/SMR-129.html
[iii] Christmas Epiphany prayer https://www.salvemariaregina.info/Prayers/Christmas-Epiphany.html#Epiphany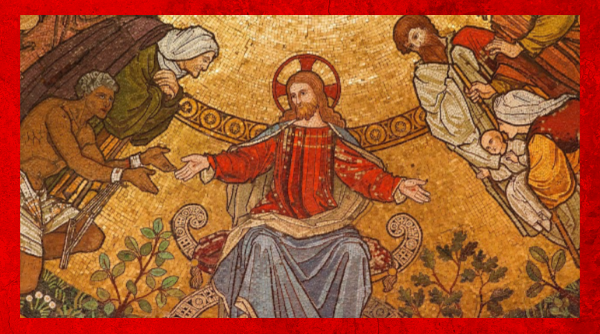 Thank you for caring and sharing appropriately...
Consecrated to the Sacred Heart of Jesus through the Immaculate Heart of Mary. Except where noted, all design, writing and images ©2021 by Debra Black and TheFaceofGraceProject.com. All Rights Reserved. No part of this website may be reproduced, distributed or transmitted in any form or by any means, including downloading, photocopying, recording, or other electronic or mechanical methods, without the prior written permission of the publisher, except in the case of brief quotations embodied in critical reviews and certain other noncommercial uses permitted by copyright law. For permission or to report violations please email:   thefaceofgraceproject@gmail.com