Forgiveness and Trinitarian love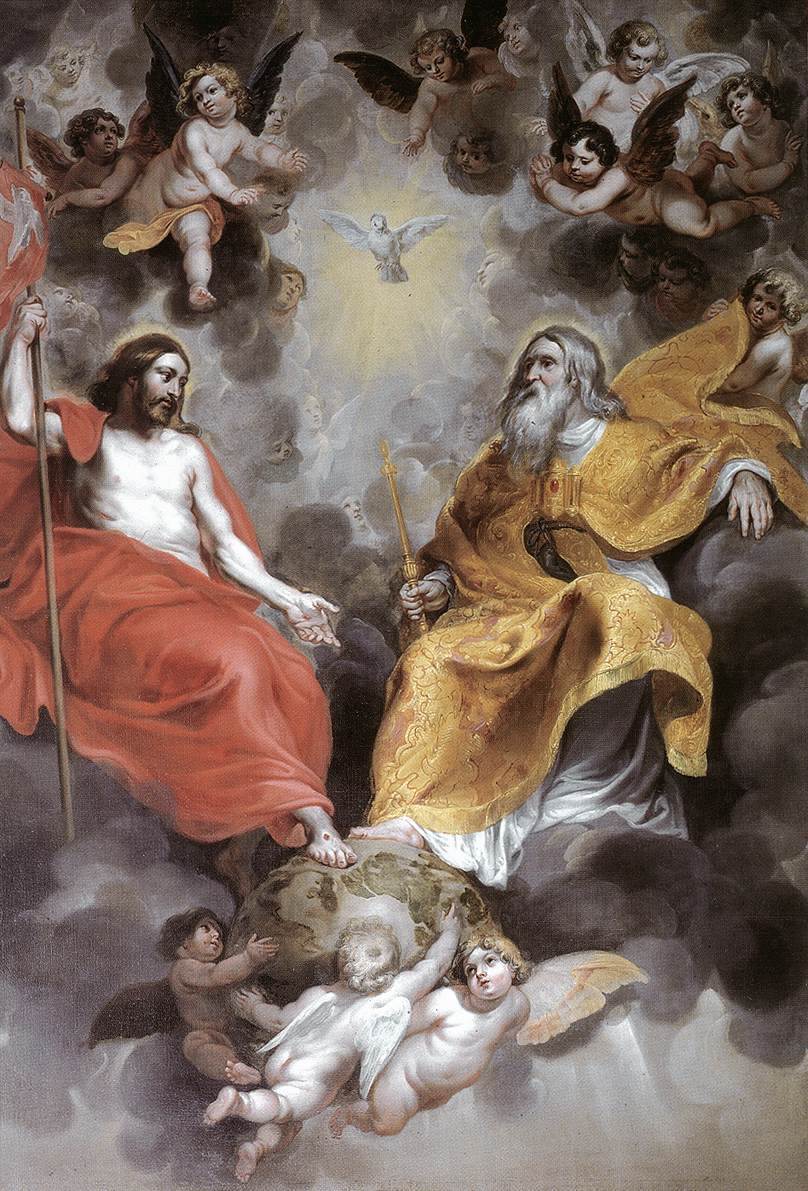 In Holy Week we were given much to ponder, including Judas' betrayal of Jesus. Jesus knew it would happen, and still loved him anyway. For us, however, whether betrayed directly and expectedly, or blindsided by the unexpected, it is difficult for us to see the potential worthiness in the act. Judas' betrayal led to our deliverance. Similarly, what we perceive to be betrayal by another may actually be an act of deliverance for us too, as we see of Joseph's survival (from his brothers' betrayal selling him into slavery Gen 37:28) being the deliverance for his family: "And now do not be distressed, or angry with yourselves, because you sold me here; for God sent me before you to preserve life; So it was not you who sent me here, but God." (GEN 45:5,8).
 "So that Christ's obedience might become the obedience that lives in our hearts, the Father permits us to suffer all kinds of difficult deaths so that, as the Risen One reveals, a more fecund and eternal mystery might grow in us. Paradoxically, being pruned by the Father is the source of unvanquished joy." (Dr. Anthony Lilles) [i]
 Are we prepared to be disposed to God's re-creating Grace moment by moment? We might shout YES assuming that Grace is packaged in a soft fuzzy moment. But more often the Grace is delivered through a trial, just as transforming coal into diamonds is a process. The first step to dispose ourselves to this is honesty. There can be no healing in denial. We must 'own' our past and take ownership of the part we played in relationships and situations. Only when we can forgive and release ourselves can we do so for others too. Although God can and sometimes does give miraculous healing, usually healing isn't an event, it's a process.
In order to forgive, we must first let go of our anger at that person. After much prayer and even professional counseling, a person can achieve a natural level of forgiveness for the one who has harmed them. Sorting through their experiences and with knowledge gained from advisors, they can reason through the other person's behavior, gain common understanding, and choose to forgive. This is a good and necessary first step as it disposes us to receiving the supernatural Grace to completely forgive them. That full forgiveness comes from the heart and only the Holy Spirit can move our desire from the head to the heart.
 Which leads to Mercy.
 "Perhaps it can be said that Heaven is on its way to us as long as we do not keep it at a distance by our own actions. I believe it is no fantasy or delusion to think this way: that our whole Christian life consists in having Heaven continually striving to catch up with us, close in on us. Every Christian act, belief, love, sacrifice, struggle, every perseverance and courageous performance — all these things make possible the approach of Him who desires only to come forward. But all coldness, indifference, slothfulness, weakness, pride, covetousness — everything that sin is called — forces Him back, bars the road to Him. And Heaven fights. Heaven wants to come to us. For Heaven is only God's love come home." (Fr. Romano Guardini) [ii]
 We are intended to be the 'home' for God's love. Every baptized Christian is intended to live a life of close relationship with God in which "one of the restrictions of human friendship (time, space, miscommunication, selfishness, inconstancy, etc.) apply".[iii] And to do that requires His tremendous Mercy for our healing. Now we move into Trinity Sunday, praising the Trinitarian mystery into which God has brought us. The Mystery in which He desires we live out every moment. As we commit to mental prayer and developing relationship with the God who is already there waiting for us, the positive ramifications of our prayer extend well beyond just us.  Our Trinitarian God is a relational God. In that relationship, we live out the scriptures. The moral code given to us in the 10 commandments, the Beatitudes, the instruction to love one another as He has loved us, and the Our Father prayer have deeper meaning gifted by the Holy Spirit in that relationship. And true forgiveness comes for ourselves and others.
 "[of the Eucharist] If there be two souls equally holy in their lives, the one who receives this sacrament with more worthy dispositions is by that reception made more perfect and, as a resplendent sun, he will shine forever more brightly than the other and will be united with God in a more wonderful union." (Fr. John Tauler)
 Through receipt of the Sacraments, we are more than living the sacraments; we are living sacraments—the "mode of approach" God has chosen to reach us (Rev. Bevil Bramwell OMI)[iv]. Let's continue to pray for all of our clergy and religious who bring us to the sacraments and the sacraments to us:
 "Mary, Mother of Mercy. Teacher of hidden and silent sacrifice, to you who comes to meet us sinners, we dedicate on this day all our being and all our love. We give to you our lives, our work, our joys, our infirmities and all our sorrows. Amen" (St. John Paul II)
 Ad Majorem Dei Gloriam. 😊
[i] Dr. Anthony Lilles https://beginningtopray.blogspot.com/2018/04/the-resurrection-and-life.html
[ii] Fr. Romano Guardini https://www.spiritualdirection.com/2018/04/04/god-is-with-us-how-jesus-opens-to-man-the-presence-of-the-father
[iii] Fr. John Bartunek on Trinity Sunday https://www.spiritualdirection.com/2018/05/23/trinity-sunday-gospel-go-matthew-28-11-20
[iv] Rev. Bevil Bramwell OMI "The Trinity Revealed" https://www.catholicscholars.org/TTFlist.php