In 2023 say goodbye to your past
It is the second week of the new year, with 50 more to go, and I reflect upon my resolutions made with (so I think) the best of intentions. By faith I know that I am the unique and unrepeatable creation of my Father God. He has created me with a purpose, one that will help me stay on the path to salvation and bring others along too. So I ask myself: are my resolutions ordered to this? My intentions?
It is my Father's will that I have all I need to live in His love and, thereby, live out my purpose in this world too. But to receive from Him that which He already has planned for me, I must come to Him with empty hands. Over time, I've let go of clothes that haven't fit me since high school, gadgets I only use once in a blue moon, unhealthy relationships, and the battle of trying to meet the expectations other people hold of me. Yet something deeper inside keeps me seeking fulfillment in worldly things, so my hands are never empty when I turn to Him.
Blessed be the God and Father of our Lord Jesus Christ … as He chose us in Him, before the foundation of the world, to be Holy and without blemish before Him.
–Ephesians 1:3-4
God, through His church, has given us the celebration of the Epiphany, the opening of eyes and hearts to the arrival of our Creator whose birth all of creation awaited. Jews, gentiles, beasts…all sought Him in their own way. Am I ready to come to Him, be filled with His Love, and then bring others to Him?
But to all who received him, who believed in his name, he gave power to become children of God.
-John 1:12
This is the very Creator who, before the world began, chose to make each one of us personally in His image and predestined us to holiness. As His personal creation, we have inherent dignity and intrinsic value simply by existing. Even more, our Father anointed Jesus' Sacred Humanity with His Spirit, and now has anointed us in our Baptism. This has given us a uniqueness distinct from all other religions, belief systems, and cultures in the world. Only we can call God Father, Daddy, for when God through scripture names us 'children' this begets what it signifies; we truly are His children.
And now, children, remain in him, so that when he appears we may have confidence and not be put to shame by him at his coming.
-1 John 2:28
What continues to hold most of us down is the 'baggage' we carry from our past and its byproducts: scruples and shame. Let this be the year to finally let go of your past. Yes, our experiences have shaped us for better and for worse. Most importantly and with God's grace, we can now know how God has sustained and loved us, even when blinded to it or refusing to believe it. He never hesitates to transcend our sin in order to be with us. Even in our weakness and sinfulness, He can glorify Himself by always being with us and never withdrawing His outstretched hand that beckons us to return to love. Carrying us without our even knowing because He heard the cries for help in our heart that we were too belligerent to voice out loud. Even when He allowed us to fall by our own will and doing, He Himself was the safety net that prevented us from falling permanently into the abyss of sin. And because of His actual grace, virtue and good occasionally shined through the muck of that sin. 
In confession, our past has been absolved. All He wants us to keep are these understandings of Him in it, His saving love, and His desire for us that remains unfulfilled until we finally spend eternity with Him in Heaven. Let go of the past and be vulnerable to love. 
May our God make you worthy of His calling and powerfully bring to fulfillment every good purpose and every effort of faith, that the name of our Lord Jesus may be glorified in you, and you in Him, in accord with the grace of our God and Lord Jesus Christ.
–2 Thessalonians 1:11-12
Ad Majorem Dei Gloriam 😊
(Images: woman by Arina Krasnikova of Pexels; soaring bird Simon Berger on Unsplash.)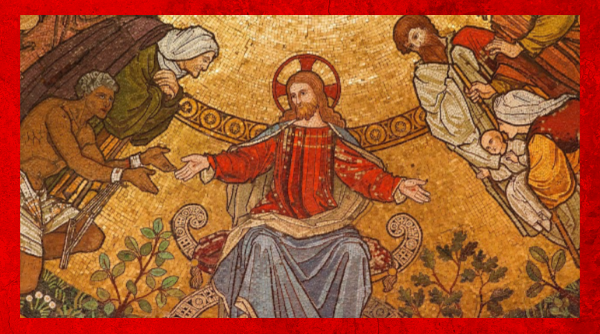 Thank you for caring and sharing appropriately...
Consecrated to the Sacred Heart of Jesus through the Immaculate Heart of Mary. Except where noted, all design, writing and images ©2024 by Debra Black and TheFaceofGraceProject.com. All Rights Reserved. No part of this website may be reproduced, distributed or transmitted in any form or by any means, including downloading, photocopying, recording, or other electronic or mechanical methods, without the prior written permission of the publisher, except in the case of brief quotations embodied in critical reviews and certain other noncommercial uses permitted by copyright law. For permission or to report violations please email:   thefaceofgraceproject@gmail.com