Living the communion of saints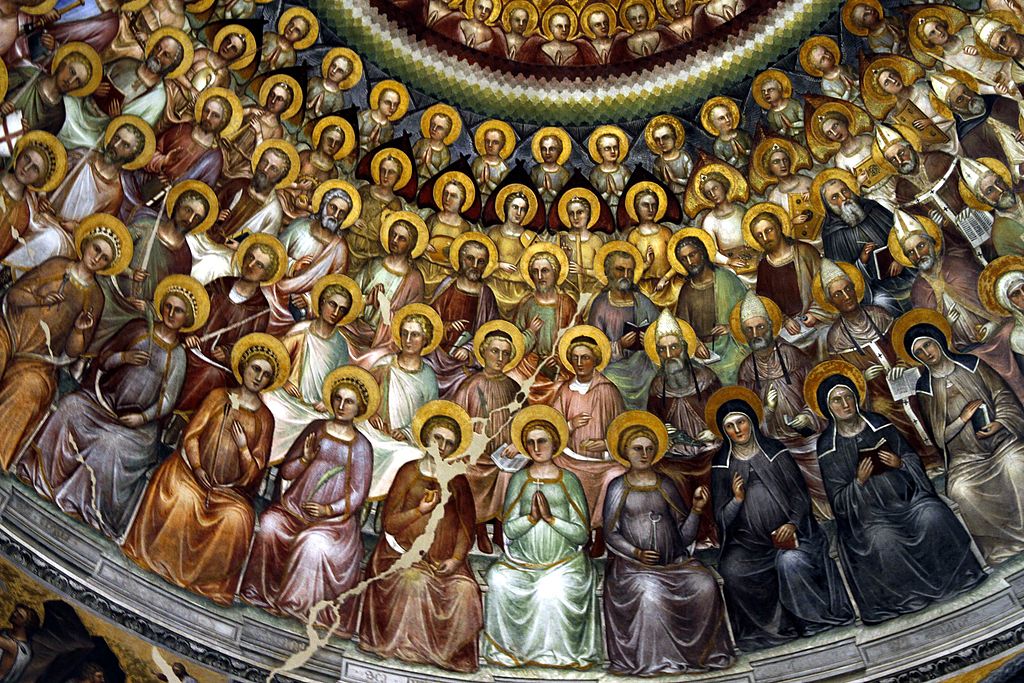 Photo: Communion_of_saints_-_Baptistry_-_Padua_© José Luiz Bernardes Ribeiro from Wikimedia
Having celebrated All Saints day and now All Souls day, we enter into a month of taking in the communion of saints: the church militant (us, the saints-in-training), penitent (purgatory) and triumphant (saints in Heaven). It gives us opportunity to grow in understanding how 'church' is a spiritual communion and our reality within which we live our daily lives. 
An insightful reading into our lived Christian reality is the book Called to Communion by Josef Cardinal Ratzinger (now Pope Emeritus Benedict XVI). He provides small tidbits of details not commonly preached that add dimension to this beautiful communion in which we exist. The biblical Jews had an understanding of 'church' that is also fundamental to our Christian faith. They understood the "people of God' to be in a spiritual union with God and unity with one another through that. Because of this, prayer was the function of their faith. Rather than being a collective of people with shared beliefs and rituals (as the Greeks or Stoics believed), for the Jews they were unified in a spiritual unity while still maintaining their own individual identity. The pagan view focused on being interdependent, recognizing the reciprocal effect one person had upon the other in community. God's people were interconnected through Him. 
People collected around a rabbi, a teacher, forming a qahal. They followed him spiritually for they believed his teaching was God's. After the various exiles experienced in the centuries before Christ, the Jews hoped for a qahal that would come from God Himself. Their prayers included supplications for this intention. This was fulfilled by the qahal formed by Christ.   
A qahal, a spiritual community lived in prayer, was signified by having their own special prayer. Pope Benedict XVI calls it their 'badge of honor', their prayer unique to them as a 'people' of God. It is a special 'rule of prayer'. This brings new significance, then, to the apostles asking Jesus, "Lord teach us to pray" (Lk 11:1). This is why they are asking; He has formed of the 12 the qahal the Jews had been awaiting. The prayer Jesus teaches them, which we refer to as the 'Our Father', is THE prayer of the follower of Jesus. Praying it, the followers actively participate in spiritual communion. As Christians, we are taught this prayer is important because it is the prayer Jesus gave us and is in the bible. This context brings more and deeper dimensions for us to understand the importance of our being part of this spiritual communion too. 
He who receives you receives me, and he who receives me receives him who sent me. (Mt 10:40)
For the Catholic, 'community' is living a life of grace. Grace is lived in two ways: interiorly and externally. Externally, we receive the sacraments; this is necessary to be a 'member of the body" of Christ. However, to be a 'living member' and receive the full effect of these, we must be living the interior life of grace. That is seeking to improve in virtues, examining the day and talking to God in mental prayer to learn what virtuous living really is. Our idea of virtues can be skewed, and God must remedy that. In the process, His Grace activates in us His supernatural virtues of Faith, Hope and Love. This is the life of Grace. We possess supernatural activity. That is something to ponder. 
St. Robert Bellarmine taught of 'wicked' Catholics who receive the sacraments but make no attempt at living the virtues. (St. Ignatius of Loyola might have considered these the first class of men, only caring that they escape hell). It is the 'living members', those who possess that supernatural activity, which is the basic community life of the Catholic Church. The wicked within the Church do not contribute towards this activity. They are carried along in it. This gives a new perspective upon the importance for us individually and as a Church in how we live our life and of our prayer. Just living Catholic brings grace into the world in ways unseen to us. 
With God as our focus and serving Him, His operating through us (His living members) maintains our unity. We can see in modern times how even well-catechized Catholics too often take on the perspective of interdependency rather than interconnectedness, thus not disposing themselves to fully participate in this spiritual communion. 
With this foundation of individuals spiritually in unity through communion in Christ, we can better understand the Churches militant (us, the saints-in-training), penitent (purgatory) and triumphant (Heaven).  These are more than simply metaphors for individuals who have reached stages of holiness to which the militant aspire. They are also part of that mystical body of Christ to which we belong. As long as we are in the Catholic Church receiving the sacraments and attempting to live the Faith, we are in this Communion of Saints. 
Receipt of the Eucharist expands upon this lived mystical reality. According to Pope Benedict XVI, in giving of His body, blood, soul and divinity in the Eucharist, Christ spiritually causes a 'fusion of experiences' through a 'mutual interpenetration' as He penetrates the soul through His Spirit and the person's 'self' is brought into Him. Just as the food we eat is assimilated into our body, upon eating the Eucharist we are assimilated into Jesus' through Grace. Each person who communicates then is assimilated into Jesus, and we form this 'corporate' body. Thus, Church is not just a metaphor for people of shared beliefs and ritualistic practices. In the mass, we are brought into God's eternal time experiencing the incarnation, life, death and resurrection of Jesus. With the assimilation of communicants (us) into that, the Church is created and regenerated at every mass. 
We can see the importance of our Holy Mother Church to our own existence and survival, as well as the impact of our prayer upon it as one of its living members. Please continue to pray especially for Pope Francis and our worldwide church. 
Listen kindly to our prayers, O Lord, and, as our faith in your Son, raised from the dead, is deepened, so may our hope of resurrection for your departed servants also find new strength. Through our Lord Jesus Christ, your Son, who lives and reigns with you in the unity of the Holy Spirit, one God, for ever and ever. Amen.
Ad Majorem Dei Gloriam 😊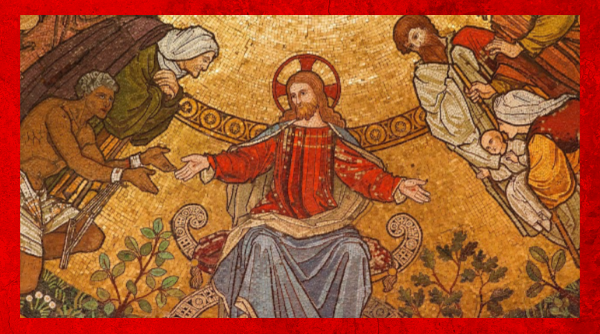 Thank you for caring and sharing appropriately...
Consecrated to the Sacred Heart of Jesus through the Immaculate Heart of Mary. Except where noted, all design, writing and images ©2021 by Debra Black and TheFaceofGraceProject.com. All Rights Reserved. No part of this website may be reproduced, distributed or transmitted in any form or by any means, including downloading, photocopying, recording, or other electronic or mechanical methods, without the prior written permission of the publisher, except in the case of brief quotations embodied in critical reviews and certain other noncommercial uses permitted by copyright law. For permission or to report violations please email:   thefaceofgraceproject@gmail.com