Multitasking or marveling? Motives of the heart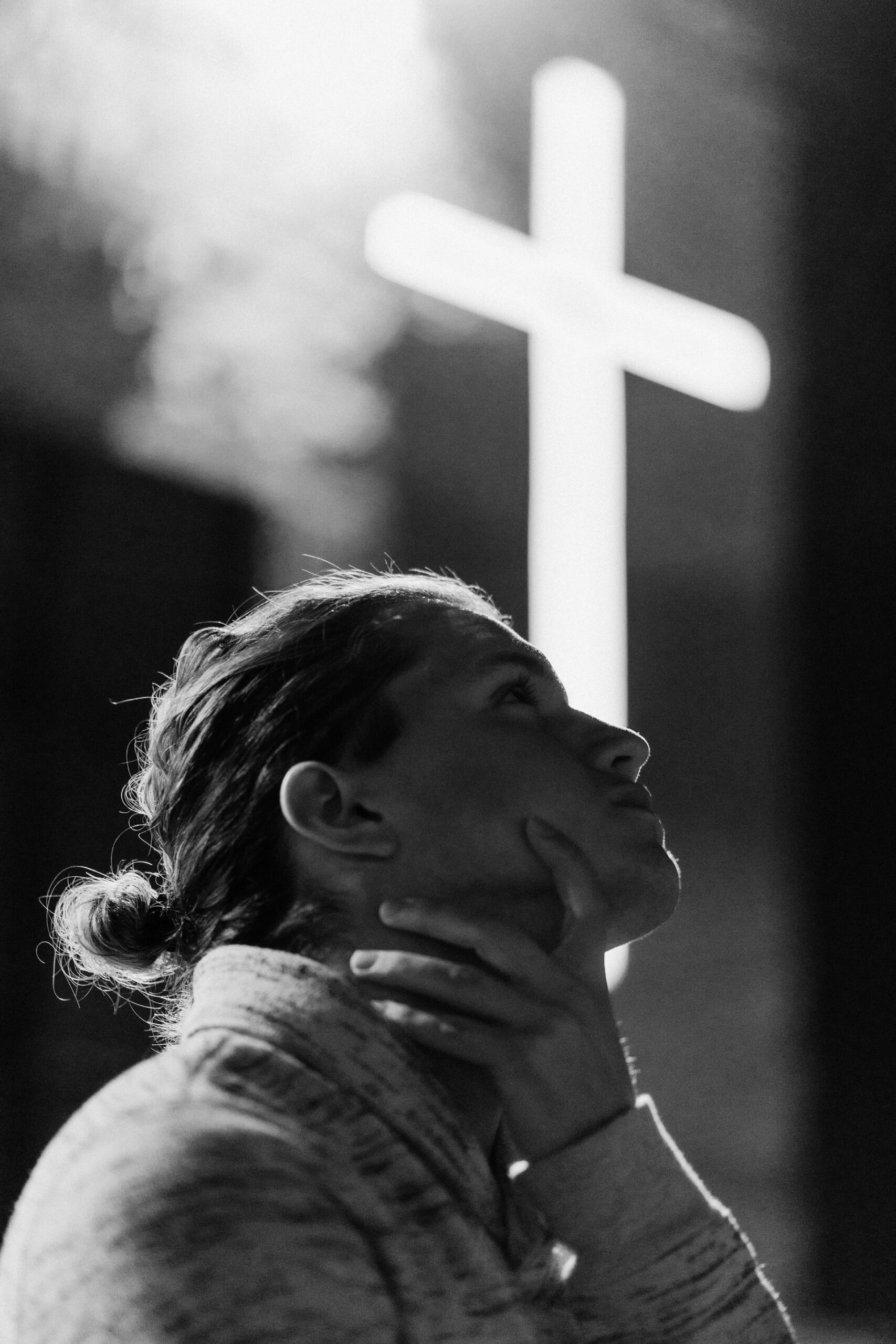 We continue to prepare to re-enter the world fully, with a shifted paradigm. Prior to the pandemic lockdown, many churches had already begun to implement new 'rules' in mass. In particular, eliminating the shaking of hands when greeting one another at the beginning of mass, and when wishing one another peace after the Eucharistic consecration. Oddly, many parishioners were upset at the removal of this. As we return to public masses, it brings opportunity for each of us to examen what this mass really means to me, personally. In mass, am I doing that which is required of me? Or am I marveling at God?
The world is seeking the supernatural, the sensational, the incredible. They look for it in media and entertainment, in new age religions, in online visionaries. They do not know that they have this desire because the very fibre of their being is created to be seeking Him. They simply need to be led.
We have that, the true supernatural. From the first sign of the cross through to the final blessing, crossed once again to mark ourselves as His as Jesus Himself blesses us through the priest In Persona Christi, every moment in between is a supernatural wonderment. The mass is about God and His relationship with us personally. Every moment on the mass is focused on Him to bring us into Him, the home for which we are destined and created. In that way, it is about the 'us' that is He and I.  The only part of the mass centered totally on us alone is the handshaking.
So, when I was told I could no longer shake hands, why did it even matter?
Would I feel the same way, to the same extreme, if some other small part of the mass was removed?
How does this play out in my life outside of the mass? Am I able to ask God to show me, in my examen, my small self-centered ways?
These small questions can bring huge change as our eyes open to seeing God's presence in our daily life.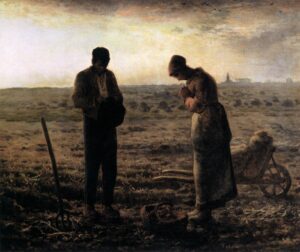 (Angelus by Jean-Francois Millet 1859-60 from Web Gallery of Art)
This leads to structuring our day in this new post-pandemic paradigm. Do I return to a busy schedule trying to fit God into it? Or do I make my day centered in our relationship, and trust in Him that necessities will fall into place? Interestingly, when a person schedules their day around God rather than squeezing God into their day, many things change. Trivial details and minor tasks are less important. Controlling ways are shed. Unnecessary busy-ness disappears. Realistically, however, our bodies have been conditioned into a hectic, frantic life filled with non-stop movement. It takes time for the body and brain to readjust to a peaceful pace. We need to ride the wave of that.
 Helpful, perhaps necessary, is to replace busy-ness with focus. Many devotions are popular today. Joining in the ongoing liturgy through the Divine Office provides a structure of 'points of return' at specific times of the day to be recollected in God. However, the demands of our vocation often do not provide opportunity for this, and that is ok. Piety isn't obsessive, it is faithful. It is a state of the heart. Some other ways to structure our day around God include: 
Go through the day simply saying the acts of Faith, Hope and Love.
At the office, keep a prayer card at your workspace and simply take a 60-second break to give yourself back to Jesus.
Develop the habit of breathing the name of Jesus. Breath in the first syllable and out the second syllable. Although a method taught by St. Ignatius for prayer, it is actually one of the oldest forms of prayer in the Catholic church.
The rosary has initial prayers and then 5 mysteries. Pray it throughout your day. For example, first thing in the morning you can pray the initial prayers and bind your personal intentions to that day's rosary. Then take short breaks during the day (or pray along while doing menial tasks) and pray a mystery. By bedtime, you will have completed the rosary! Remember, St. John Vianney said one Ave Maria makes hell tremble!
 The question arises legitimately: am I multitasking or marveling at God? Am I squeezing God into my schedule? This depends on our own intention. Intentionality in prayer is very important. The examen can help unveil motives and intentions. If we feel the need to be productive, to complete all of the tasks on the to-do- list, then this elicits conversations that need to be had with God in mental prayer. 
[Biographer writing of Brother Lawrence's teaching] "That we should establish ourselves in a sense of GOD's Presence, by continually conversing with Him. That it was a shameful thing to quit His conversation, to think of trifles and fooleries." … "it was lamentable we had so little [Faith]; and that instead of taking faith for the rule of their conduct, men amused themselves with trivial devotions, which changed daily. That the way of Faith was the spirit of the Church, and that it was sufficient to bring us to a high degree of perfection.

 That we ought to give ourselves up to GOD, with regard both to things temporal and spiritual, and seek our satisfaction only in the fulfilling His will" … "That as for the miseries and sins he [Brother Lawrence] heard of daily in the world, he was so far from wondering at them, … that for his part, he prayed for them; but knowing that GOD could remedy the mischiefs they did, when He pleased, he gave himself no farther trouble. That to arrive at such resignation as GOD requires, we should watch attentively over all the passions which mingle as well in spiritual things as those of a grosser nature: that GOD would give light concerning those  passions to those who truly desire to serve Him." (Brother Lawrence of the Resurrection)
 Ultimately, the path to holiness is paved by our keeping our thoughts on God. Finding small ways such as these to incorporate simple prayer into the day does precisely that. Even if just the space of a few seconds, our minds are returned to God. And His time is eternal, so those few seconds have eternal repercussions particularly throughout the mystical body of Christ. Don't overlook the power of Grace that occurs throughout the world simply by your openness to Him in the small moments of your day.
 God hasn't called us to live life perfectly. He has called us to live life lovingly. He honors our intentions and expects our imperfections. Don't be afraid. Let Him create a new post-pandemic you!
 Let part of the post-pandemic life be an ongoing prayer for our worldwide church, especially Pope Francis, our clergy and religious who bring Christ to us in the sacraments and us to Christ in their prayers.
 Oh my God, thank You for having preserved me today and for having given me so many blessings and graces. I renew my dedication to You and ask You to pardon me for all my sins. Amen.
  Ad Majorem Dei Gloriam. 😊
 (Image woman and cross: Only God can judge by Keem Ibarra from Unsplash.com)