The O Antiphons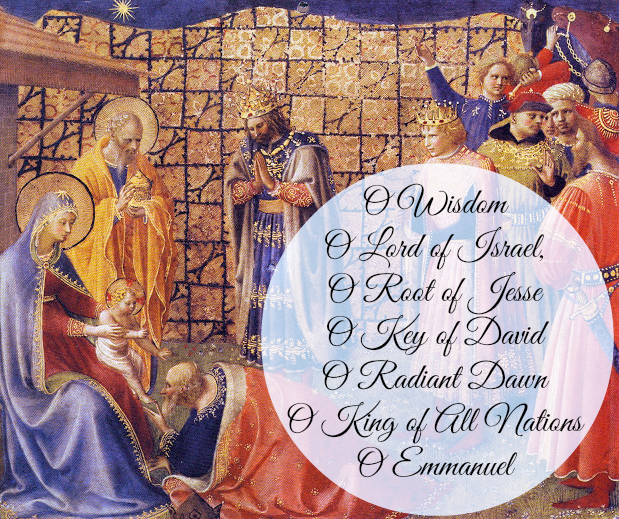 For when peaceful stillness encompassed everything and the night in its swift course was half spent, your all-powerful word from heaven's royal throne leapt into the doomed land.
–Wisdom 18:14-15
It is the final week of Advent. Our mass readings have been preparing us for the coming of our Lord, both His birth and His second coming at the end of time. Most recently, we have had the adult Jesus teaching us how John the Baptist is a type of Elijah, preparing the way of the Lord. This week, the readings switch to Jesus' lineage, his incarnation, John's conception, and birth, and then finally the birth of Jesus. 
And now the O Antiphons begin. When I attended mass back in the 1990's, the song O Come O Come Emmanuel was sung at every mass during Advent. I thought maybe it was our pastor's favorite Christmas song! LOL! I didn't know then about the O Antiphons. Dating back to the sixth century, each begins with "O" followed by a Messianic title of Jesus. 
O Wisdom Jesus is wisdom personified. Our faith will grow when it is fully lived, for His knowledge and understanding will abide in us. We are to prepare to accept wisdom into our heart. 
O Adonai He is our Lord who will rescue us. Jesus wants us to put our smallness into His powerful hands, then watch with awe as He governs our life. Let your thoughts rise as incense to Him, and trust in His power and majesty. For as you become small, His power and glory will become greater in your life. 
O Radix Jesse Your interior life will blossom and grow as you make room for His life in your heart. Just as flowers naturally turn to the sun for sustenance, you will find it natural to be in conversation with Him as your sustenance each day. Root your life in Him and see the fruits He will grow in it. 
O Key of David Not only does Jesus pardon our sins when confessed, He has already taken them upon Himself to obtain our Father's pardon for us. The power of His salvation is infinite. He has come to bring you out of the darkness and into the light of glory. Let Him free you from the shackles of sin and the obstacles of vice. 
O Radiant Dawn Jesus is the radiant dawn, the light of the world. In this light of mystery He reveals to us the mystery of our being and journey. The world does not define us; it is His presence within us that has made us a new creation, a new being. Remain in His glory and He will illuminate your days. 
O King of all nations As anticipation and excitement builds for His coming, do not forget that He is the source of all joy. He formed us from the dust of the earth and continues to form our days. Your joys, sorrows, mistakes, and unfinished projects will be rich and beautiful when you bring Him into each. Take advantage of His benevolent mercy, and your Christmas preparations will overflow with joy. 
O Emmanuel Jesus' very name means I AM with you.  When the angel told Joseph that He would save His people from their sins, and so to name Him accordingly, Joseph had only a moment to agree to this huge responsibility. He could have divorced Mary and walked away from it all. But already being a man who had centered his life around our Father, Joseph didn't hesitate to say yes. We, too, need to choose. This Christmas, fully commit to your relationship with Jesus so that you may have eternal life. 
And He who had only a Father now had a Mother too.
–Saint John of the Cross
The busyness of this season will suddenly come to a close. Although Christmas is an octave not just a day, the joyous celebrations will end. In all of this hub-bub, it's easy to lose sight of Jesus and instead worry about perfecting details while anxiously keeping to a cumbersome schedule that you have created for yourself. Ask Jesus to give you the grace to instead remain in wait for Him while also bringing this hope and joy into the relationships with which He has blessed you. 
In sorrow that the ancient curse should doom to death a universe, You came, O Savior, to set free Your own in glorious liberty.
– Saint Ambrose, Conditor Alme Siderum
Ad Majorem Dei Gloriam 😊
(Image: O antiphons from Catholic News World)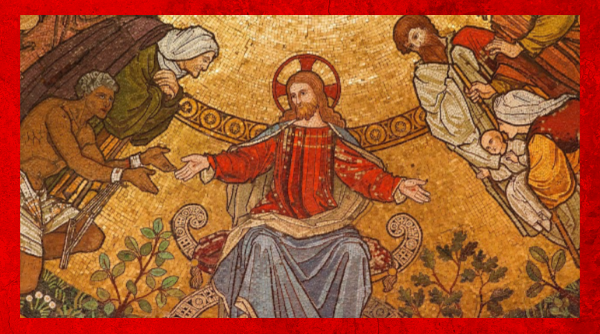 Thank you for caring and sharing appropriately...
Consecrated to the Sacred Heart of Jesus through the Immaculate Heart of Mary. Except where noted, all design, writing and images ©2024 by Debra Black and TheFaceofGraceProject.com. All Rights Reserved. No part of this website may be reproduced, distributed or transmitted in any form or by any means, including downloading, photocopying, recording, or other electronic or mechanical methods, without the prior written permission of the publisher, except in the case of brief quotations embodied in critical reviews and certain other noncommercial uses permitted by copyright law. For permission or to report violations please email:   thefaceofgraceproject@gmail.com